Janice's Books
Friend, Fling, Forever?
March 2019
HEART SURGEON TO SINGLE DAD
October 2018
A SURGEON TO HEAL HER HEART
February 2018
A Firefighter in Her Stocking
October 2017
The Doctor's Secret Son
July 2017
The Nurse's Baby Secret
April 2017
Buy at Amazon
It Started at Christmas…
November 2016
..
Sizzling Nights with Dr. Off-Limits
September 2016
Winter Wedding in Vegas
November 2015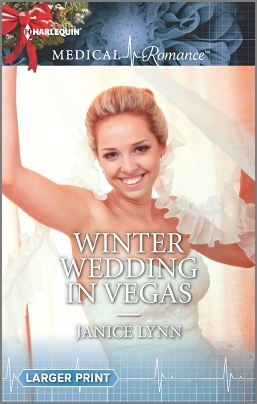 NY Doc to Blushing Bride
June 2015
Tiny Treats2: A St Patrick's Day Collection
March 2015
Tiny Treats: A Holiday Collection
November 2014
Flirting with the Doc of her Dreams
September 2014
After the Christmas Party
December 2013
Mammoth Book of ER Romance
NYC ANGELS: Heiress's Baby Scandal
Challenging the Nurse's Rules
November 2012
Revenge for Hire
February 2012
Causing a Commotion
January 2012
The Doctor's Damsel in Distress
June 2011
There's something about Nurse Madison that had Dr. Levi Fielding desperate to have her in his arms. Her girl-next-door looks and unawakened sex appeal mean he can't resist flustering her. So when Levi saves Madison's life at a hospital picnic, he knows it's a white knight moment he'll take full advantage of…
Flirting with the Society Doctor
June 2011
Walking on the wild side with her boss!
Vale Wakefield is a spectacular doctor, but Faith Fogarty knows his 'forever' factor is next to 'nil'. He'll always go for designer social-lites over colleagues in scrubs. She's spent months fighting her attraction to him, but now she's facing a weekend as Vale's date to a society wedding. Maybe it's time for Faith to throw caution to the wind and take a few risks with the delicious Dr. Wakefield…
The Nurse Who Saved Christmas
December 2010 release
Officer, Surgeon…Gentleman! 
October 2010 release
A Forbidden Love!
Dr. Amelia Stockton gets the shock of her life when she sees dashing naval surgeon and old flame Cole Stanley on board her ship. Although they parted in anger, one glimpse of Cole in his dazzling white uniform and Amelia's suddenly racing heart is shouting mayday…
Cole knows Amelia belongs in his arms, though getting her to admit to their explosive chemistry is difficult-especially given the navy's strict "no relationship" policy! But Cole isn't about to let protocol stand in his way. When it comes to the beautiful Amelia, rules are made to be broken!
Dr. Di Angelo's Baby Bombshell
May 2010 release
 Buy at Amazon
Dr. Darby Phillips is horrified to open the invitation to her high-school reunion! She was the shy, studious girl boys never looked twice at. Her heart won't survive the humiliation if she turns up without a date!
Enter her colleague, the delicious Dr. Blake Di Angelo. His Italian charm wins over every girl he flashes his twinkling smile at–including Darby! But her proposition is strictly business.
She never imagined playing the happy couple could lead to bona fide romance. Reality hits hard, though, when Darby must tell Blake that his playboy penthouse will soon be hearing the pitter-patter of tiny feet….
Playboy Surgeon, Top Notch Dad
2010 Holt Medallion Award of Merit winner
February 2010 release
Buy at Amazon
Single mom Blair Pendergrass guards her heart fiercely–especially against men like her new boss, notorious playboy and heart surgeon Dr. Oz Manning. Heart healer? Heartbreaker, more like!
Vulnerable Blair is exactly the sort of woman Oz usually runs a mile from. He doesn't have much faith in relationships, and he's not about to start making promises to Blair and her adorable little girl–however much he wants to!
But might this beautiful nurse be the one to make Oz finally believe in forever?
The Nurse's Baby Miracle
2010 Write Touch 2nd place winner
Penny Jordan introduces Robyn Grady, Joanna Fulford, & Janice Lynn
October 2009 release
ISBN: 978-0263875447
ISBN: 026387544X
A Longed For Baby!
For Natalie Carmichael time is running out–if she stands any chance of having a child, it's now or never . . . then she meets drop-dead gorgeous Caleb Burton.  One night with him and not only is Natalie hooked . . . she's also pregnant!
The Playboy Doctor Claims His Bride
 Dr Eric Matthews is back - and it seems this playboy doctor is still every inch the heart-throb! But Eric only has eyes for his new colleague, Dr Kasey Carmichael- Kasey knows she should stay well away - until she realises that Eric-s rebel reputation disguises a man who can be trusted with her fragile heart.
August 2009 release
SURGEON BOSS, SURPRISE DAD
February 2009 release
Buy at Amazon
The Doctor's Pregnancy Bombshell
WINNER OF THE 2007 National Readers Choice Award
Buy it now from Amazon!
Available November 2007
ISBN 978-0-263-19699-3
Surprise Baby!
GP Melissa Conner steeled herself to tell her partner her news: James, the man who'd always insisted he never wanted kids, was going to be a daddy!
Only A & E consultant James Stanley dropped his own bombshell first — unhappy with the way work had overtaken their relationship, he was leaving! And then he discovered Melissa's pregnancy. A baby would re-open long-painful scars from his past. But he still loved Melissa, and after the ultrasound scan he was surprised he loved his unborn baby, too. Could this tiny scrap of life bring these two complex souls back together again?
Yes, he hoped so. . .
The Heart Surgeon's Secret Son
2009 Book Buyers Best finalist
She had to tell him her secret…
Nurse Kimberly Brookes has postponed her week-long training session with leading heart surgeon Daniel Travis once already. Even through she feels like running for the hills, she can't put it off any longer - she has to go into Theatre and face the man she once loved with all her heart…
Daniel is now even sexier than he was all those years ago - success, confidence and maturity have made him irresistible. But as the week wears on, Kimberly feels the pressure of her renewed feelings for Daniel and of her untold secret - he is the father of her son…
Available March 2008 in the US via http://www.eharlequin.com
The Doctor's Meant-To-Be Marriage
A proposal worth waiting for
Chelsea Majors met sexy Jared Floyd when they shared one fleeting, but oh-so-memorable kiss ten years ago - a kiss that made her feel beautiful for the very first time. Now Dr Majors has come to join Jared's GP practice, and she discovers that although Dr Jared is just as smoldering as ever, there's a sadness in his eyes…
Chelsea brings life and sparkle to the surgery - and everyone can see the smile start to return to Jared's face. As Chelsea and Jared gradually find their way back to one another, Jared begins to realize that this might be his last chance to make Chelsea his bride.
Available May 2008 in the UK
Jane Millionaire
Buy it now from Amazon!
ISBN 978-0505526649
Read an Excerpt
2005 American Title Winner
2006 Golden Quill Winner - Best First Book
Tune In
On the set of Wolf TV's hot new reality show "Jane Millionaire," the steamiest scenes aren't in front of the camera, they're in-between takes.
Turn On
With twelve gorgeous bachelors at her beck and call,
Jill Davidson (AKA Jane) should be in heaven. Instead, her insides are sizzling, and the guy responsible isn?t even a contestant!
And Get a Taste of True Temptation
Rob Lancaster loathes reality television, but producing "Jane Millionaire" is worse than anything. If only his star weren't quite so appealing. If only there weren't so many other hunks hanging around. If only he himself were Mr. Jane Millionaire.
On TV or off, anything can happen.